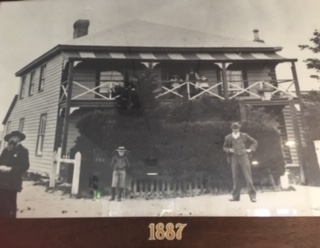 The Oxford Working Men's Club celebrates over 130's of being a social hub in Oxford ever since it was founded in 1887.
The Club was originally formed by local citizens concerned that hotels were overcharging the working man.
The Original building that operated as "the club" was originally referred to as "Mitchell's Temperance Hotel" and occupied and operated from the present site for 12 years in rooms rented from Mr Mitchell. Then the club purchased and reorganised the building and it is believed that this weatherboard structure was unfortunately demolished by fire in October 1931.
The Club was granted a Queens charter in 1888, this enabled the Club to sell intoxicating liquor to it's members for consumption on or off the premises. No member is to gain any financial reward from this phase of the Club's activities and all profits are used for the provision of amenities for the members.
In the days when railway was in operation the club was the hub of a busy thoroughfare, as the station was within walking distance. For about one month during the flu epidemic of 1918, the club building was used as a temporary hospital. Permission to add the words "Mutual School of Arts" was granted by the Registrar of Friendly Societies in March 1935 and the library is still available for members use today.
In these early years the club was a male orientated community and women were not allowed on the premises. If it was necessary for woman to "call" she was required to wait in the cloakroom to be attended to! Thankfully this practice ended in 1982 when woman were able to become full members.
Both membership and the building have grown along with the township and today the Club has a Bistro, Bottlestore, Takeaways, Function room, Gaming Room and TAB facilities, Library as well as two bars.
The Oxford Club is an integral part of the local community with around 2,000 members annually, 11 sections and it supports local schools, clubs and retailers.
2022/2023 Committee
President - Malcolm James
Vice President - Barbara Roberts
Committee Members
Nick Crowe
John Davies
Luke Eder
Lin Fagan
Tim Fleetwood
Heather Norton
_________________
General Manager: Donna Hughes
email: This email address is being protected from spambots. You need JavaScript enabled to view it.